I have been working for 20 years as a journalist, in newsrooms and as a freelance journalist. My articles and pictures have been published in daily newspapers, for example Svenska Dagbladet, and in magazines and journals, for example Amnesty Press. Altogether almost 100 different ones. I have also contributed to News agencies TT (Sweden) and Inter Press Service.
The articles have been filed under the categories: news, domestic, international, conflict, war, press freedom, human rights, sports, economy, business, work, leisure, culture, environment, energy, technology and recycling (possibly a few others as well).
So far I have reported from some twenty countries in Europe, as well as from India, Sri Lanka, USA, Canada and Australia. Together with a photographer I made a documentary for television and I have performed on radio and made radio reports. In 2015 released my first book. An English version of When They Kill Journalists — A Personal Story About Sri Lanka is under production (link to the Swedish Publisher: SILC, opens in a new window).
As a Communications Officer I have been the Editor (including production of text, photo and layouts) for organization and customer magazines and magazines for staff and members — within a union, a listed company and a government agency with international activities.
This website was developed during 2015. The idea is to fill in with more, old as new. In the News section (blog), I will also post a few stories, some with links to some of the newly published articles and reportage.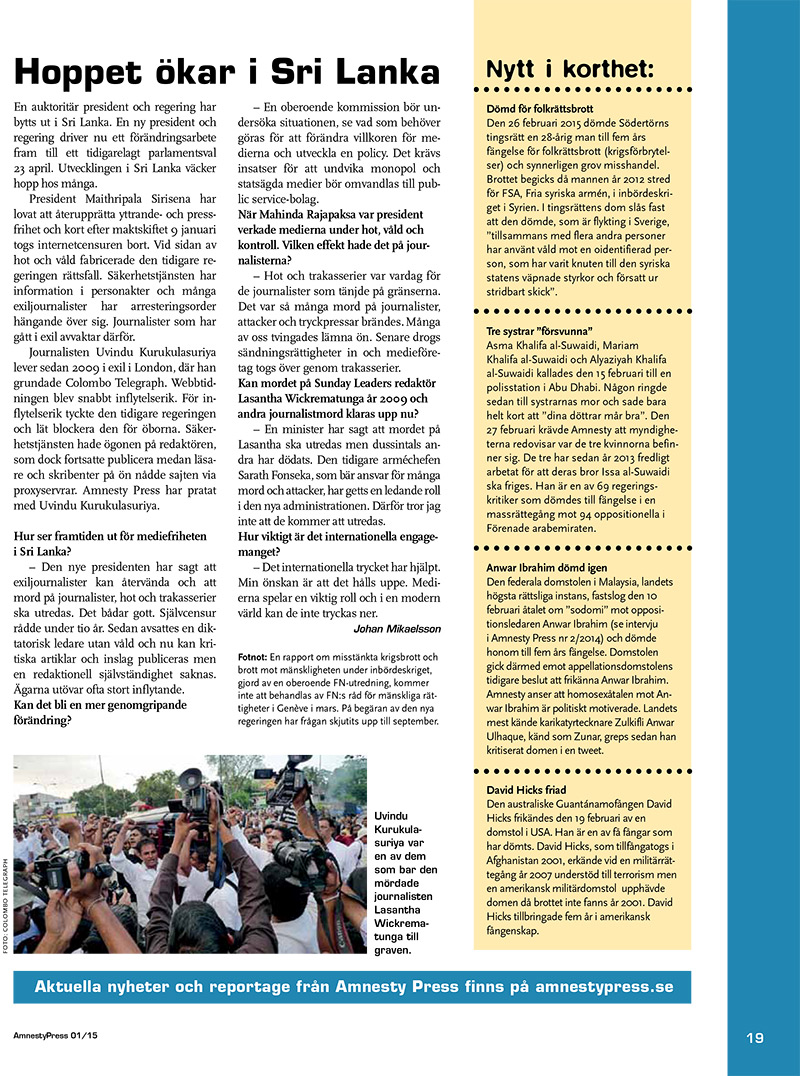 Article in Amnesty Press No. 1 2015
In the article I interview the exiled Journalist Uvindu Kurukulasuriya from Sri Lanka. He lives since 2009 in London, where he founded the influential online magazine Colombo Telegraph, which he also is the Editor of. The site, blocked by the previous government played, played an important role by bringing a critical debate. Writers and readers in Sri Lanka reached it despite obstacles, including by proxy servers and through articles published on Facebook. The article and the entire Amnesty Press No. 1 in 2015 can be read at amnestypress.se (in Swedish).